I always love when 'stars' play the "Don't you know who I am?" card when caught breaking the law. This time it was Alec
Baldwin
,
anti-gun activist
and
all around stable individual
.
New York (CNN) -- Actor Alec Baldwin was arrested Tuesday and issued two summonses -- one for disorderly conduct -- after riding a bicycle the wrong way on a New York street, police said.


The "30 Rock" star allegedly became angry and started yelling at police after they asked him for identification to give him a summons, police said. The other summons was for riding a bike against the flow of traffic. Baldwin is to appear in court July 24.

Once in custody, Baldwin was taken to a nearby precinct, where he reportedly asked the desk supervisor: "How old are these officers, that they don't know who I am?" according to a law enforcement official.
Here's a pic of him assaulting a paparazzi a few months ago: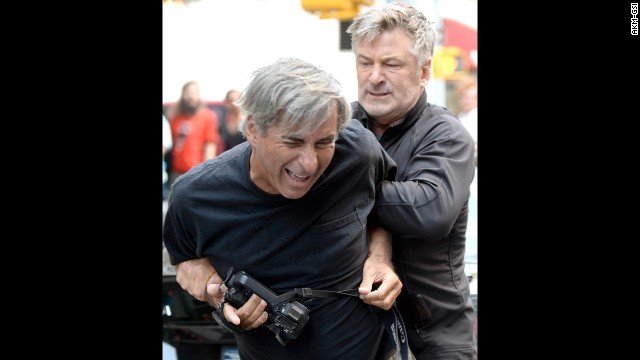 Admittedly paparazzi are trash but take a look at the expression Alec has on his face. No wonder he's anti-gun (
for those lowly proles at least
), he knows what he would do w/ one.
But here's the part that gave me giggles:
"New York City is a mismanaged carnival of stupidity that is desperate for revenue and anxious to criminalize behavior once thought benign."
You mean like owning a gun Alec? You mean that 'carnival of stupidity' run and operated by the same authorities you want to give MORE authority to in relation to your flash-in-the-pan crusade? But only when those 'criminalized behaviors' inconvenience you is what you really mean.